9TH – 11TH DECEMBER 2019
SEMINAR HALL – IIT DELHI, INDIA
SOCIAL MEDIA INTEGRATION OF DIGITAL LIBRARIES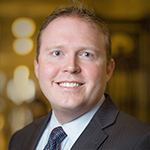 GREG CRAM
Director of Copyright,
Permissions and Information Policy,
The New York Public Library
Greg Cram is the Director of Copyright, Permissions and Information Policy at The New York Public Library. Greg endeavors to make the Library's collections broadly available to researchers and the public to be used to advance knowledge. He is responsible for developing and implementing policies and practices around the use of the Library's collections, both online and in the Library's physical spaces.
Greg has helped steer projects through a maze of complex intellectual property issues, including the release of more than 290,000 high-resolution images of public domain collection items. Greg has represented the Library in advocating for better copyright policy and has testified before Congress and the United States Copyright Office.
Before joining the Library in 2011, Greg served as the copyright clearance consultant to Leadership Team Development, a business support company that organizes thousands of meetings, seminars, and conferences. He also worked as a licensing associate at Sanctuary Records, a large independent record label. He is a graduate of Boston University and The Benjamin N. Cardozo School of Law and a licensed attorney in New York and Massachusetts.
ABSTRACT
Over the last twenty years, cultural heritage institutions have been digitizing their collections in an effort to make their collections more accessible. This transition, from library stacks to server racks, has been a significant undertaking, both in terms of resources to fund digitization and in human focus and effort. At the eve of the start of the next decade, now is a good time to consider the output of all of this labor. This presentation will consider how digitization has advanced the missions of cultural heritage institutions and identify opportunities for these institutions to have a larger reach and impact.
The mission of many cultural heritage institutions is to advance the progress of knowledge. In this context, knowledge means more than just scholarly development—it includes art, culture and scholarship. The collections of these institutions are carefully curated, preserved and managed so that they can become the foundation for others to use to advance knowledge.
The collections can become the raw materials for the next great book, the next documentary film that sheds light on a matter of critical importance, or the next work of art that moves society.
To achieve these ambitious goals, the collections of libraries, museums, and archives must find their way in front of creators, scholars, and artists. That means bringing the collections to the places where the creators, scholars, and artists come together. One such place is social media. In 2018, an estimated 2.65 billion people were using social media worldwide. By 2021, that number is projected to climb to over 3 billion. For many, social media is the tool to explore culture, share inspiration, and connect with others—exactly the kinds of places where cultural heritage organizations want their collections to appear.
Unfortunately, institutions have not been able to take full advantage of the opportunities these platforms present. Although large institutions have been able to attract millions of followers, there are billions of users. Pushing digitized collections through various social media platforms is not reaching the intended audiences as much as we might want. Instead, cultural heritage organizations that strive for deeper engagement with collections have been looking for ways to encourage organic reuse of collections on these platforms.
One barrier to deeper user engagement is copyright law. The users of cultural heritage institutions do not have the information they need to understand whether collection items can be shared or used. This presentation will discuss an effort to standardize this information to make it easier for users to understand the copyright and reuse the status of digitized cultural heritage collections. This standard, the RightsStatements.org rights statements, is one way cultural heritage institutions can encourage the lawful use of collections on social media platforms.
PRESENTATION
Social Media Integration of Digital Libraries